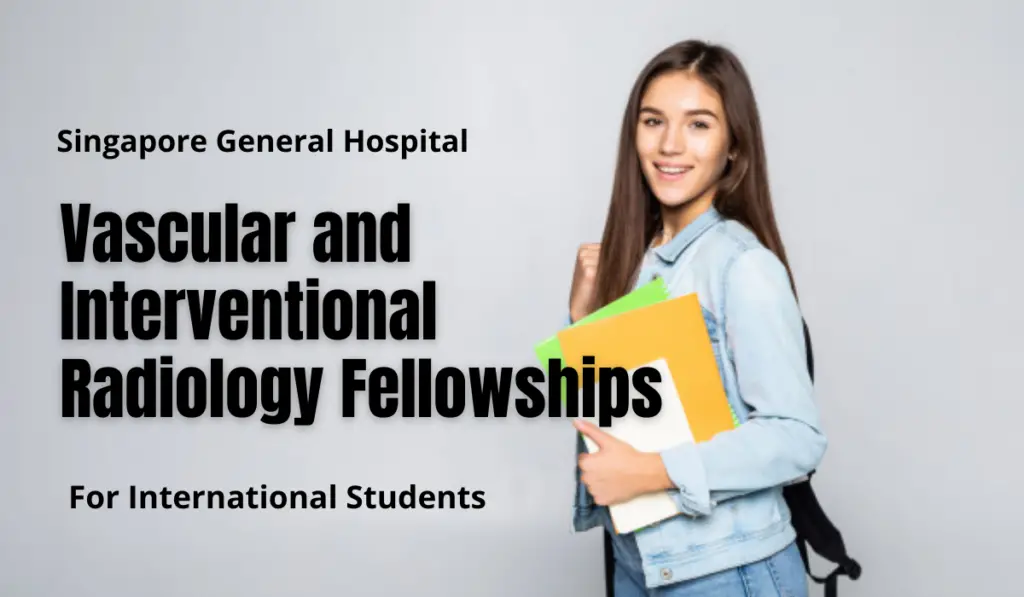 Take this chance to gain experience and training in the health sector abroad by applying for the Vascular and Interventional Radiology (VIR) Fellowships at Singapore General Hospital for the academic year 2021-2022.
International students who wish to gain experience in the Department of Vascular and Interventional Radiology at the Singapore General Hospital are eligible to avail the fellowship. The fellowship includes training, clinical activities, and evaluation of the same along with a monthly stipend.
The Singapore General Hospital is a tertiary referral hospital in Singapore that aims to be an international centre of excellence for advanced clinical skills training in allied health and deliver innovative and quality advanced clinical skills training for allied health professionals to enhance the standard of patient care and reputation of SGH as a leading medical institution.
Why should you apply for this programme? Singapore General hospital provides a competitive remuneration and comprehensive benefits programme for a high performing and motivated workforce as they contribute to the Hospital's mission and goals. It has further built a strong culture of appreciation, providing rewards and recognition for employees through other meaningful ways, such as awards and appreciation events to affirm the efforts of the individuals and teams. The staff at Singapore General hospital enjoys the best base salaries, bonuses and allowances.
Application Deadline: 31st July, 2021
Brief Description
University or Organization: Singapore General Hospital
Department: Department of Vascular and Interventional Radiology
Course Level:  Fellowship
Award: Stipend
Number of Awards: 3
Access Mode: Online
Nationality: International
The award can be taken in 

Singapore
Eligibility
Eligible Countries: Applicants from all international countries including ASEAN member countries are eligible.
Eligible Course or Subjects: Fellowship programmes in the field of

Vascular and Interventional Radiology

are eligible.
Eligibility Criteria: To be eligible, the applicants must meet all the following/given criteria:
The applicants must have 5 years radiology residency training or equivalent.
How to Apply
How to Apply: The applicants are required to apply online on the website of the hospital and complete the process.To apply for the fellowship, the applicants are required to send the following documents to fellowships@sgh.com.sg within 3 days of the submission of the online application.
Supporting Documents: The applicants must submit the following documents:
Education/Medical Qualification information
Basic Medical Degree
Postgraduate Medical/ Other Degree/ Fellowship
Medical Licensure
Past/ Present Employment Information
Clinical Posting History
Information on other Residency/ Postgraduate appointments (between Houseman / Internship postings and the current position)
Information of Professional Referees
Admission Requirements: The applicants must have a postgraduate medical qualification in Radiology e.g. FRCR, MMed or equivalent to be accepted for the fellowship.
Language Requirement: The applicants must have proven competency in English per Singapore Medical Council's requirements for clinical fellowship to be accepted.
Benefits
The hospital will provide the selected candidate a fellowship of 12 months in the Department of Vascular and Interventional Radiology (DVIR) in Singapore General Hospital (SGH) with a monthly stipend.
Mời các bạn tham khảo thêm các bài chia sẻ sau nhé